200-Hour Teacher Training in Dharamsala, India - 2023 (RYS - 200)


A 200-hour Yoga Teacher Training course in Dharamsala is suitable for everyone. With the yogic environment, this yoga teacher training inspires intermediate, beginner, or advanced levels. This yoga course is completed in 200 hours with detailed lessons on asanas, pranayama, breathing exercises, alignment methods, bandhas, kriyas, and mudras. All these aspects of yoga will be practiced both theoretically and practically.
The 200-hour yoga teacher training course will cover the subjects like yogic physiology and anatomy. The students will be provided with the Ashram lifestyle to teach them to live a stress-free and happy life. The 200 yoga teacher training course will also include intensive knowledge, including the yoga teaching method.
Students will be imparted the knowledge of Hatha Yoga which is the root of Yoga. They will be facilitated with in-depth knowledge and modifications of basic asanas. Students will be provided with correct and yogic breathing techniques, which are covered in Pranayama classes.
The 200-hour Yoga Teacher Training course also covers the knowledge of Kriya and Ashtanga Vinyasa Yoga, which is advanced from Yoga. After completing the Hatha Yoga series, students can enhance their yogic knowledge with Advanced Yoga. This will help them to teach advanced techniques for their future. You will also be provided with meditation and relaxation classes during the course.
Aims and Objectives of 200-Hour Teacher Training in Dharamsala
Our objective is to facilitate beginners and experienced students in Yoga with very theoretical and technical solid experience in this 200-hour Yoga Teacher Training Course in Dharamshala. It will facilitate them to effectively perform advanced series of Hatha Yoga and Ashtanga Vinyasa Yoga and various styles of Yoga with perfect alignment and perfection.
We will provide 200 hours of residential yoga teacher training courses in Dharamshala to the students ready to become teachers and fully autonomous. We will prepare students to hold their classes in our studios. In Dharamsala's 200-hour teacher training program, students learn the exquisite combination of Hatha Yoga, Iyengar Alignment, and Ashtanga Vinyasa Yoga. The ultimate goal of this combination of all three styles of Yoga is to perform Yoga most effectively to the best standard.
200-Hour Yoga Teacher Training Dharamsala- Highlights
Yoga TTC in Dharamshala will be one of the most beautiful experiences of your life. In this 200-hour Yoga Teacher Training Course in Dharamshala, you will enjoy a stay in a serene and majestic valley amidst mountain ranges. You will have a yogic practice and be in one of the most peaceful and serene places on earth.
Our yoga center in Dharamshala is far away from the hustle and bustle of the city. The Yoga Center offers yoga training in the serene backdrop of the Pir Panchal ranges of the Himalayas. There are places where the yoga school is free from construction sites, and the resort atmosphere is peaceful.
The yoga curriculum is oriented towards providing students with knowledge of proper alignment, awareness of the anatomy of the human body, and in-depth learning about the subject. Enrolling in a 200-hour yoga teacher training in Dharamsala will give students enough knowledge to become skilled yoga teachers.
The 200-hour Yoga Teacher Training program broadens students' perspectives of yoga beyond the practice of physical asanas. There is a greater awareness of the spiritual and mental side of yoga. The knowledge imparted in these 200-hour teacher training courses will provide knowledge and awareness about various elements of a yogic lifestyle.
Students will be ready to push their limits in all aspects of life. We will allow him to grow into a better human being and a yogi. We cover unknown aspects of the subject, from the history of yoga to the physiology and anatomy of the human body.
This course aims to make the students better yoga teachers and cultivate a spiritual and solid physical practice. This course covers aspects like chakras, pranayama, and meditation. The course is not limited to 8 hours of daily yoga practice for the students.
The students will experience practicing yoga to be a complete yogi for a month. Students will be ensured to maintain optimum balance in their life. The program is also designed to include free time and excursions for students, facilitating participants in exploring nearby areas.
Yogic discussions
Hatha yoga workshops
Guided meditation sessions
Deep pranayama
Breath work
Yoga philosophy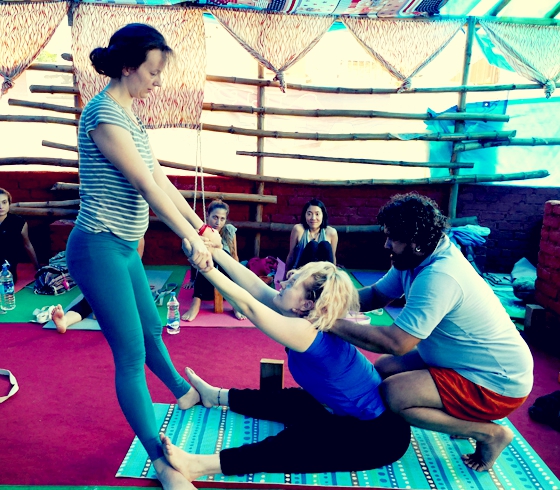 200 Hour Yoga teacher training – Schedule of Daily Yoga classes in Dharamsala

The schedule of daily yoga classes in Dharamshala is wholly oriented towards yogic lifestyle and health. Every morning, students begin with Kriya and Pranayama to purify body, souls, and mind. During the course, students are given the best 200 hours of Yoga TTC experience in Dharamshala.
This type of beginning is a good foundation for Hatha and Ashtanga Vinyasa yoga sessions. From the beginning of the training course, Hatha and Ashtanga Vinyasa Yoga classes are taught by senior teachers to the students. During the entire course's last period, students can do their exercises.
3rd May to 29th May 2023,

1500 USD

2nd June to 28 June 2023,

1500 USD

3rd July to 29 July 2023,

1500 USD

3rd August to 29 August 2023,

1500 USD

3rd September to 29 September 2023,

1500 USD
Accommodation and Food Details:
Accommodation:
Lodging facilities.
Bedding and pillows.
Blankets.
Food:
Completely vegetarian, vegan and satvik food.
Our food items also include herbal and green teas.
200-Hour Yoga Teacher Training in Dharamsala - Daily Schedule

The practice in the morning will end with a fulfilling meditation session that will be followed by a wholesome breakfast. There will be conduction of subject classes in the midday, and the subject will be changing every week. The training will include all the subjects from the philosophy of yoga to physiology and anatomy.
Participants can also request marketing classes. These classes will assist the students in getting knowledge regarding self-promotion as yoga teachers and the way in which they can conduct marketing of their own centers of yoga. In the afternoon, there is a class on the teaching methodology.
Students gain knowledge regarding the correct postures in an elaborate manner which enhances their practice and also provides them with knowledge about the correct alignment. In the evening, there are classes on yin yoga, Vinyasa flow, Restorative yoga, and Hatha yoga. The conclusion to the day is made with the evening meditation.
07:00 am

Pranayama, mantra chanting, guided meditation, and breathing practice

08:30 am Alignment-based

Hatha Yoga Class (Iyengar Style), including everyday asana practice of standing postures, forward bending, back bending, inversions, twisting, and more

10:30 am

Breakfast (traditional Indian or your choice of vegetarian breakfast)

11:00 am

Class on yoga philosophy or anatomy (lectures on Indian mythology, chakra healing, mantra healing, and more)

12:00 pm

Class on the art of teaching with experienced yoga practitioners

13:00 pm

Lunch, rest, and personal study time to gather additional knowhow on yoga and spirituality

15:00 pm

Lecture anatomy or philosophy (detailed talks on yoga anatomy and physiology)

16:30 pm

Hatha Yoga Class (Iyengar Style) covering the yoga practice of multiple asanas.

18:30 pm

Occasional evening breathing meditation sessions with yoga trainers

20:00 pm dinner

 and free time to pursue personal hobbies and group interactions

22:00 pm Early

 bedtime after a successful day of 200 hours YTT course.
200-Hour Yoga Teacher Training - Outline of Content or Syllabus

In the 200-hour yoga teacher training course, the subjects that will be covered are sequencing, yoga lifestyle or philosophy, asanas along with the modifications and alignment, sutras of yoga, Ayurveda and yogic eating, pranayama, physiology, anatomy, chakras, various types of yoga including Vinyasa and Hatha. The training will be provided in theory as well as the practical methodology of all the Kriyas, Mantras, Pranayam, and different techniques of Meditation and asanas.
There will be the inclusion of sitting poses, inversions, standing poses, arm balances, backward extensions, and other postures. Students will also learn the Sanskrit language to master the Asana names. There will be the inclusion of Kirtans, Mantra Chanting, Satsang, and Kirtans, which are included in the Bhakti Yoga.