Yoga for Kids Teacher Training Rishikesh

Beginning yoga early has several benefits. Yoga for kids is beneficial. As kids are energetic and flexible, they can learn yoga faster than adults; thus, they benefit more from it.
Yoga improves their physical and emotional wellness, which helps their academic achievement. Yoga makes youngsters more creative. They're inspired to focus and take action. Yoga helps kids develop better attitudes and fewer negative tendencies. Parents should enroll their kids in hatha yoga school in Rishikesh to avail the yoga programs.
Yoga's benefits for kids go beyond the physical. Children enjoy several activities to keep them busy and happy. Aside from napping, kids rarely sit still. However, they have also led astray. Enrolling a child in a recognized Kids' yoga program is the best way to focus their thoughts.
If you're looking for a true, traditional, experienced school that offers the best-organized, most-professional, most-affordable 200-hour yoga teacher training course in Rishikesh registered with the Yoga Alliance, you've come to the right place. 
Our trainees are guaranteed to receive the same world-class instruction that has made us famous. This yoga teaching training course is designed to equip those passionate about teaching Yoga to children with the skills, resources, knowledge, and self-assurance they need to succeed in their endeavors. 
This training is designed for parents, educators, and healthcare professionals who want to introduce their young patients or clients to the benefits of Yoga. Generally, beginning yoga practice at a young age is recommended.
When and why might it be beneficial for children to do yoga?
The goal of children's yoga in Rishikesh is to get youngsters involved in as many different activities as possible. Whether you want to improve your child's flexibility or teach them how to be more physically strong, our classes will help. Regular yoga course participation has been linked to significant gains in focus and confidence in children. As a bonus, at our yoga teaching training course, we guarantee they have a peaceful setting in which to practice yoga with all their might.
Yoga for Kids Teacher Training - Course Structure

Yoga course for kids includes some basic asanas (poses) such as:
Sun-rise and sun-set tree pose
Butter fly pose
Fish pose
Airplane pose
Gorilla pose
bow pose
Partner bridge pose, and many more
We also have some practice exercises in our course, where the kids will have to remain quiet while being in the pose.
Kids Yoga Training in Rishikesh - Guidelines
Our yoga classes for kids should be conducted by the certified yoga instructors having years of practical experience.
You should send your kids to only the schools having specialty in teaching yoga to kids.
Make sure your child is physically fit enough to do the poses.
Sessions of yoga exercises for kids should be conducted only during the free hours of the kids.
There must be guides consistently observing the kids to ensure they don't execute the poses wrongly. Children should also not be doing yoga excessively.
It is always a nice idea of teaching yoga to kids in groups.
One may take help of the videos and the light music as well for teaching yoga to the kids.
Trainer must be having adequate experience in conducting childrens yoga teacher training sessions.
*Tax are not included in fees
Children's Yoga Teacher Training - Daily Yoga class schedule
(It may change as per situation)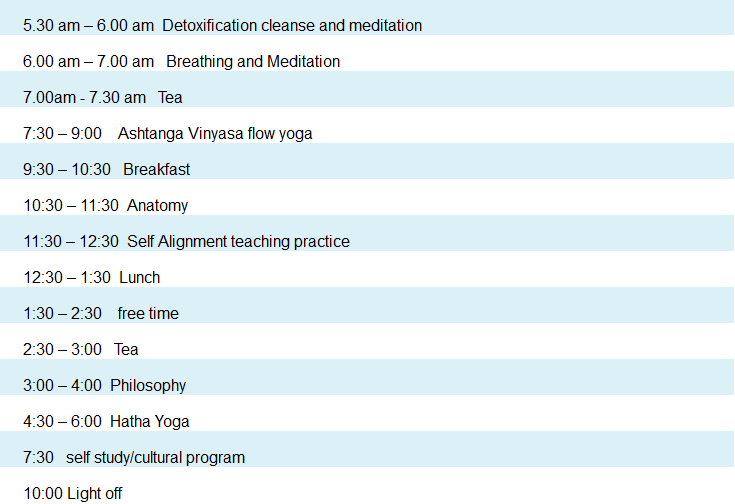 Yoga Philosophy, Lifestyle and Ethics for Kids Yoga Training in Rishikesh
Early to bed and early to rise.
Students should reach yoga class on time.
Consumption of junk/fast food is strictly avoided.
Must adore to yogic lifestyle.
Daily practice of yoga poses at home also.
Regular practice of meditation with light music in the background.
Communicate or discuss about yoga philosophy to students.
Course Fee Package includes
Daily yoga classes
Yoga mats, blocks, straps and ropes.
Light yogic food throughout the day, along with fruits.
Light musical CD to play while practicing yoga.
Yoga t-shirt and bag.
Study material including books.
Certificate accredited to and recognized by Yoga Alliance USA, on completion of yoga course.
My mom got me enrolled in 'yoga for kids' course. In the beginning I got bored by as I started learning various yoga poses, I started getting excited. With every passing day, the course became more and more interesting as I was able to learn new yoga poses and breathing techniques. I'm glad that I came here, and would urge my friends to do the same.
--Jack Suderlan, US, Tech Tips and Tricks
Conclusion
We at Hatha Yoga School strategize the courses so that the yoga poses for kids can be learnt in an efficient fashion. We initiated this program for the first time at Hatha Yoga School with an aim of making the nation yoga empowered. This is so as we understand kids are the futures of every country.
We conduct various activities of yoga for kids classes, which are meant to assess their potential and to grow them accordingly. These are meant to make them both physically and mentally strong.
Rishikesh is Best and Safe Destination for Yoga TTC in India
Rishikesh is blessed with incredible beauty and enchanting climate condition. This makes it the best destination for teaching yoga to children. Dedicated efforts boy Sivananda Yoga and our experts have made things even more enchanting for visitors to spend some time. We provide ashtanga yoga courses, 200 hours course, and other courses for beginners. At the same time, we also offer special programs of yoga for kid's teacher training Rishikesh.