300-Hour Teacher Training in Dharamshala, India - 2023 (RYS - 300)


Our Yoga Teacher Training courses are divided into different durations. An aspiring teacher can first start with a 200-hour yoga training program. Once this program is approved, you can opt for the next level program, which lasts for 300 and 500 hours. A 300-hour yoga teacher training program in Dharamsala typically includes the Ashtanga Vinyasa primary series, kriyas (yoga asanas), pranayama, meditation, and the study of alignment and adjustment. The institute you enroll in for this training course provides the necessary tools to make your endeavors fruitful.
The first 200 hours will be reserved for the Ashtanga Yoga Elementary Series. In the remaining 100 hours, students can continue their primary studies or prepare for their intermediate course. The interested student is introduced to the Intermediate series. It is when your teachers will give you feedback about your intermediate range. You can proceed to the next stage if the teacher feels you are ready for the Intermediate course. Ultimately, your yoga teacher will determine whether your body is ready for complex yoga postures. Ultimately, the 300-hour Yoga Teacher Training program will allow you to explore pranayama and meditation techniques and the philosophical underpinnings of yoga. It will help you move forward in your journey towards samadhi.
Aims and Objectives of 300-hour Teacher Training in Dharamsala
The 300-Hour Yoga Teacher Training in Dharamsala is an advanced program to train participants who wish to become yoga teachers. The 300-Hour YTTC in Dharamshala is for yogis to gain knowledge about advanced teaching skills and basic concepts of yoga. Students will be prepared to teach techniques and theories that are more advanced in a more complex manner.
The 300-Hour Yoga Teacher Training in Dharamsala aims to give students more in-depth knowledge and awareness of yoga practice. In this course, students will gain in-depth knowledge and experience regarding preparation to engage in proper alignment techniques. This course is also designed to progress you in your yoga teaching journey after completing the 200-hour Yoga TTC in Dharamsala.
The 300-hour YTTC focuses on providing the students with the proper guidelines to impart to their students in the future. The curriculum focuses on aspects of yoga, such as pranayama, kriya, meditation, and anatomy. The 300-hour teacher training program aims at imparting precise knowledge about Yoga training and Hatha adjustments at an advanced level.
The objective of this course is also to orient the students towards taking them on a new journey of Yoga. Also, it will give them the confidence to help them deliver better yoga training.
300-Hour Yoga teacher training Dharamshala - Highlights
During the 300-hour yoga teacher training, students can explore the ancient practice of the Vedas, philosophy, and literature. There is more engagement of both students and teachers, which will enhance personal growth in life.
Students are assured to leave the training with a greater sense of inner peace and the wonderfully gifted tools of meditation yoga.
This course is designed to ensure that the students learn all the techniques. We give the student the knowledge to understand each asana as the instructor divides the asanas into sections. In this way, students learn to deepen their yoga practice and help others deepen their yoga practice. The training program is a high and intensive level yttc program, one of the best 300-hour yoga ttc. The course covers various techniques of yoga sequencing, physiology, and anatomy. The core principle is a priority over the depth of the survey. Students are given knowledge about all the tools they need to become effective yoga teachers until achieving certification.
The course is designed to create an environment of a yogic lifestyle for the participants. It shows that students can survey various topics and gain in-depth knowledge about meaningful and specific aspects of yoga training. Students will get a chance to explore the Vedic culture and understand the concepts of Yoga at a deeper level.
With the duration of the course of 300 hours, students will be provided ample time to explore the yoga teacher training course. This course includes outdoor activities, prayer sessions, and excursions to provide the students with an enjoyable time with us.
Yogic discussions
Hatha yoga workshops
Guided meditation sessions
Deep pranayama
Breath work
Yoga philosophy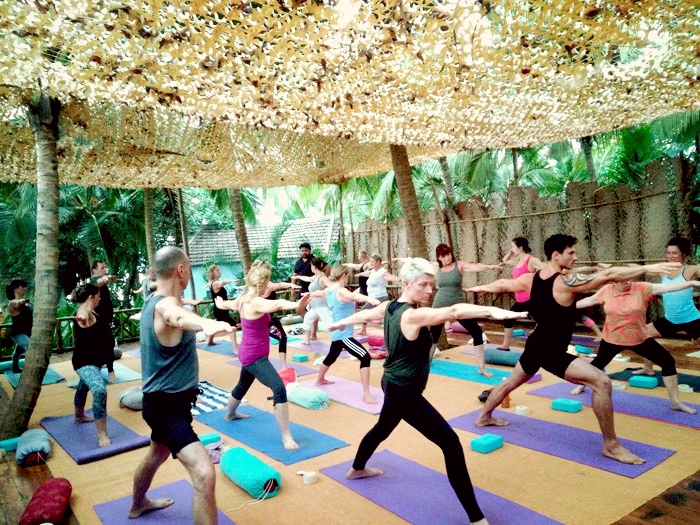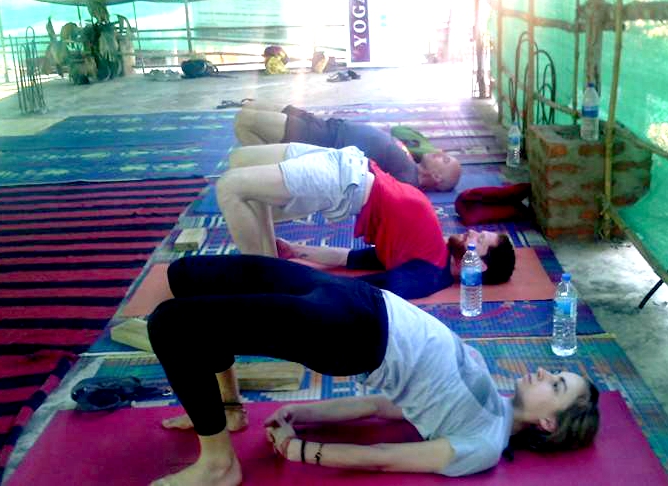 300-Hour Yoga Teacher Training – Schedule of Daily Yoga classes in Dharamshala

The details of the program to be followed in the 300-Hour Yoga Teacher Training are as follows:-
Every student will have a wake-up time at 6 am.

Ayurvedic tea will be arranged at 6:15 am.

Net action will be conducted at 6:30 am.

Pranayama will be organized for the students from 7 am to 8 am.
After this session, there will be Ashtanga Vinyasa Yoga from 8 am to 10 am every weekday.
Breakfast will be provided for the students and instructors between 10 am to 11 am.


After this, the darshan class will be held at 11 am, which will continue till 12 pm. Then the classes of Physiology and Anatomy will run from 12 pm to 1 pm.

Food will be served to the students at 1 pm.

A lunch break from 2 pm to 3 pm will be reserved for self-study, and classes for alignment, adjustment skills, and teaching methods will follow.

6 pm to 7 pm will be reserved for meditation, chanting, and 

yoga nidra

.

Dinner will be served from 7 pm to 8 pm.

The time to switch off the lights will be at 9 pm.
3rd May to 31st May 2021

1850 USD


3rd July to 31st July 2021

1850 USD
Accommodation and Food Details
Accommodation:
Lodging facilities.
Bedding and pillows.
Blankets.
Food:
Completely vegetarian, vegan and satvik food.
Our food items also include herbal and green teas.
300-Hour Yoga Teacher Training in Dharamsala - Daily Schedule


The morning practice will end with a wholesome meditation session followed by a nutritious breakfast. The subject classes will be held in the afternoon, and the subject will change every week. The training will cover all subjects, from yoga philosophy to physiology and anatomy.
Participants can also request marketing classes. These classes will help students learn about self-promotion as yoga teachers and the way they can market their own yoga centers. In the afternoon there is a class on the method of teaching.
Students gain detailed knowledge about correct postures, enhancing their practice and giving them knowledge about correct alignment. There are classes on Yin Yoga, Vinyasa Flow, Restorative Yoga, and Hatha Yoga in the evenings. The day is concluded with an evening meditation.
07:00 am

Pranayama, mantra chanting, guided meditation, and breathing practice

08:30 am

Hatha Yoga Class (Iyengar Style), including everyday asana practice of standing postures, forward bending, back bending, inversions, twisting, and more

10:30 am

Breakfast (traditional Indian or your choice of vegetarian breakfast)

11:00 am

Class on yoga philosophy or anatomy (lectures on Indian mythology, chakra healing, mantra healing, and more)

12:00 pm

Class on the art of teaching with experienced yoga practitioners

13:00 pm

Lunch, rest, and personal study time to gather additional knowhow on yoga and spirituality

15:00 pm

Lecture anatomy or philosophy (detailed talks on yoga anatomy and physiology)

16:30 pm

Hatha Yoga Class (Iyengar Style) covering the yoga practice of multiple asanas.

18:30 pm

Occasional evening breathing meditation sessions with yoga trainers

20:00 pm

Dinner and free time to pursue personal hobbies and group interactions

22:00 pm

Early bedtime after a successful day of 300 hours YTT course.
300-Hour Yoga Teacher training – Outline of Content or Syllabus


The syllabus for the 300-hour yoga teacher training includes the following topics:
Ashtanga vinyasa yoga
 Hatha Vinyasa
 Hatha yoga and correct adjustments along with the alignments
Ayurvedic diet and lifestyle
Yoga sutra of Patanjali
Psychology and anatomy of yogic practice
Bandhas
Mudras
Alignment anatomy
Philosophy and history of yoga
Chanting mantras
Meditation
Breathing techniques ( Pranayama)
Correction classes or self practice
The course involves practicing the asanas in the right way, along with the correct body alignment techniques. Bhakti Yoga consists of Kirtan, chanting of mantras as well as conducting satsangs. Students will also learn the art of giving an Ayurvedic massage.