Yoga Teacher Training Rishikesh - Payment options


Payment option to pay advance fee to reserve your spot for 100 hour yoga ttc, 200 hour yoga ttc, 300 hour yoga ttc, 500 hour yoga ttc, meditation yoga, yoga for beginners, pregnancy yoga or kids yoga ttc at Hatha Yoga School, Rishikesh, India.
In order to confirm your spot in courses you need to pay registration amount as below.
After we receive your advance fee we will sent you a confirmation E-mail about your course. This advance fee will be deducted from the total fee of the course. The rest of the yoga fee can be paid on arrival.

100 hour Yoga Teacher Training Course : Registration Fee : USD 115

200 hour Yoga Teacher Training Course : Registration Fee : USD 210
300 hour Yoga Teacher Training Course : Registration Fee : USD 315

500 hour Yoga Teacher Training Course : Registration Fee : USD 315
Option 1
Payment By Paypal
Option 2
Direct Bank Transfer Option
Account Holder Name: Hatha Yoga School

Account Number: 258859230024
Account Type: Current Account
IFSC Code / MICR Code: INDB001696
SWIFT Code:  ( For International Payment )
Name of Bank: IndusInd Bank
Address: Rishikesh, Uttarakhand, 249201
Option 3
Indian Students Pay Online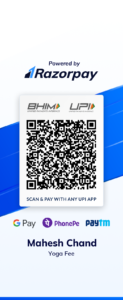 Payment option on arrival
Our school would like it if you would pay the rest of the balance amount on arrival on the first day of yoga ttc at school office. We accept
Cash in Indian Rupee, American Dollar, Australian currency or European currency.

Traveller Checks for USD.

Credit Cards/Debit Cards. [ 3.5% Extra Charge ]