200 Hours Yoga Teacher Training in Rishikesh (

RYS - 200)


200 hour yoga teacher training course in Rishikesh, India is a life-changing journey that will start your quest as a registered yoga teacher. 200 hour yoga teacher training course in India at hatha yoga school in Rishikesh is a residential hatha yoga teacher training course that is recognized under the guidelines of yoga alliance certification in India. After completion of this yoga course, you will able to mark your journey as a certified yoga teacher and level up your personal yoga practice. This 200 hour yoga teacher training in Rishikesh is suitable for all walk of practitioners whether they are a beginner or been practicing yoga for quite a time and want to level up their knowledge for yoga for personal or professional use.
The duration of 200 hour yoga teacher training in Rishikesh India at hatha yoga school in Rishikesh is 21 days. In RYT-200 certification you will get in-depth teaching of yoga asana, pranayama, meditation, yoga teaching methodology, yoga anatomy and physiology under the guidance of our professional yoga teacher. Apart from this the rituals and principles of this ancient science will help you to discover and grow the spiritual aspect of your life and create a healthy relationship between your mind, body and soul.
Highlights - 200 Hour Yoga Teacher Training in Rishikesh


Learn in-depth teaching of hatha yoga and ashtanga vinyasa yoga.
Pranayama and different technique of meditation to open the subtle energy chakras of the body and prepare your body for a heightened sense of consciousness.
Learn the brief history and principles behind yoga from the great yogic scriptures such as hatha yoga pradipika, Patanjali yoga sutra and Bhagwat Geeta.
The in-depth teaching of yoga physiology to ensure the safe practice of yoga.
Learn the science of mantra, bandhas and mudra.
Yoga teaching methodology and its application in structuring a yoga class by incorporating all the elements of yoga under the guidance of our experienced yoga teacher.
Schedule - 200 Hour Yoga Teacher Training in Rishikesh (YTTC) 2023

Aims And Objectives of 200 hour Teacher Training in Rishikesh:

The principal objective of this yoga teacher training program in Rishikesh is to provide a complete understanding of various yoga principles, its application in human health management and modern medical knowledge, particularly on human Anatomy, Physiology and Psychology. This yoga training in Rishikesh aims in fulfilling the need of Institutions and individual interested in pursuing career as Yoga therapists/teachers and research worker/medical doctors.
As a respected name for RYS - 200, our aim for yoga training school in Rishikesh India, has been always to provide the wholesome knowledge to the students that can help them in a greater development in future. Our strategies are meant-
To develop deep theoretical knowledge that can be helpful for greater practice of yoga principles.

To develop scientific approach towards yoga practice.

To develop a technical fundamental of yoga practice.

To explore personal practices on different component of yoga.

To understand yoga philosophy and its application in personal life.

To develop teaching skills to share yoga knowledge.
MEDIUM OF INSTRUCTION: English
TOTAL DURATION: 200 HOUR including contact and non-contact hours.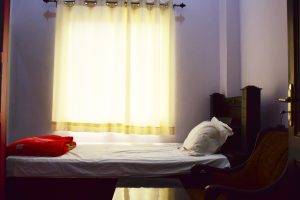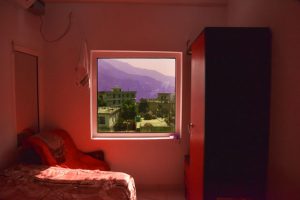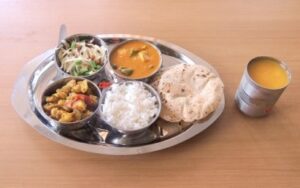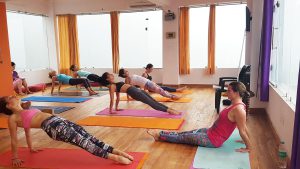 200 Hour Yoga teacher training Rishikesh, India - Highlights

Through our 200 hour yoga ttc in Rishikesh, we provide greater knowledge of yoga and make them an equally greater trainer as well. We are very much serious about our teaching ideologies and values.
200-hour yoga teacher training India - Schedule of Daily Yoga classes in Rishikesh at Hatha Yoga School

**There will be no yoga class scheduled on Sundays but may be used for visiting local attractions
05.30 am – 06.00 am

Detoxification cleanse and Meditation

06.00 am – 07.00 am

Breathing and Meditation

07.00 am – 07.30 am

Tea

07:30 am – 09:00 am

Ashtanga Vinyasa Flow Yoga

09:30 am – 10:30 am

Breakfast

10:30 am – 11:30 am

Anatomy

11:30 am – 12:30 pm

Self Alignment Teaching Practice

12:30 pm – 01:30 pm

Lunch

01:30 pm – 02:30 pm

Free Time

02:30 pm – 03:00 pm

Tea

03:00 pm – 04:00 pm

Philosophy

04:30 pm – 06:00 pm

Hatha Yoga

07:30 pm

Self Study/Cultural Program

10:00 pm

Light Off
200 hour Yoga Teacher Training Rishikesh, India 2020 - Outline of Content or Syllabus

The 200 hour yoga education syllabus we follow is developed by a team of experts having years of research experience. We cover complete yoga education syllabus for 200 hour yoga teacher training in Rishikesh which includes two main modules:

Practical Training Module
Theoritical Training Module
PRACTICAL TRAINING MODULE DETAILS:
We make the students learn both Hatha yoga and Ashtanga Vinyasa yoga, along with their entire underneath principles.
Section-1: SIMPLE YOGA TECHNIQUES TRAINING
Sukshma-vayayama (yogic micro-exercise for whole body from head to foot)
Loosening yogic practices
Strengthening yogic practice
Anti-rheumatic Group
Digested /abdominal group
Spinal twisting group

---

---
Section-2: ASANA TRAINING
Surya Nameskar Tradtional
Surya Nameskar-A
Surya Nameskar-B
Shavasana
Shirshasana
Ardha Halasana ( one leg/ both legs)
Uttana Padasana
Viparitkarni
Sarvangasana
Section-3: PRANAYAM
Thoracic breathing
Clavicle breathing
Yogic breathing
Kapalabhati
Bhatrika
Nadi-shodhan Pranayama (balancing pranayama)
Cooling Pranayama
Heating pranayama (stimulating)
Section-4: MUDRA
Hasta Mudra
Shambhavi Mudra
Nasikagra Drishiti Mudra
Kaki Mudra
Shanmukhi Mudra
Vipareetakarni Mudra
Yoga Mudra
Maha Mudra
Maha Vedha Mudra
Bhujangini Mudra
Section-5: BANDHA

Moola Bandha
Jalandhara Bandha
Uddiyana Bandha
Maha Bandha

---
Section-6: KRIYA
Jal Neti
Sutra Neti
Jala Kapalabhati
Kunjal
Sankhapraksalana
Section-7: RELAXATION
Yoga Nidra Level-1
Yoga Nidra Level-2

---

---

---
Section-8: MEDITATION
Om Meditation
Chakra Meditation
Mantra Meditation
Kundalini Meditation
Inner Light Meditation
THEORITICAL TRAINING MODULE DETAIL

200-hour yoga ttc in Rishikesh at Hatha Yoga School in Rishikesh included 3 sections focusing on detailed explanation of principles of yoga in connection with human life.
SECTION 1 : Lecture on Yoga philosophy
What is yoga, types of yoga, raja yoga, karma yoga
Bhakti yoga, Jyana yoga, Hatha yoga, Ashtanga yoga
kriya yoga, laya yoga, iyanger yoga, yama
understanding of yogic concept such as Nadies, chakra, and kundalini
Concept of prana, major and minor prana
SECTION 2 : Yogic Human Anatomy and physiology
Digestive System
Respiratory System
Cardio-Vascular System
Endocrine System
Muscular Skeletal System
SECTION 3 : Teaching Methodology
Lesson Planning or Creating a class Sequencing

component of teaching process

how to organization and set upclass

methods of Creating a lesson planning

principle of instuction and alignment principles.

fundamental principles of sequencing of yoga class
Learning outcomes of 200-hour yoga teacher training in Rishikesh India

The comprehensive training program is designed in such a way it presents each and every principle in a very rational way. This will not only help you to understand all the principles and concept of yoga in ease but also apply in your daily life.
You will learn all the details and techniques of yoga asana which will let you master these yoga asanas.
The daily practice of yoga asana, pranayama, meditation and mantra chanting along with anatomy lessons will let you master yoga on a physical level and with all the philosophical teaching will let you move inwards and reach your inner consciousness.
You will be equipped with all the 200 hours yoga certification accredited with yoga alliance USA that will allow you to teach yoga all over the world.
The complete training and the comprehensive training program along with necessary tools and techniques make you develop the confidence to teach yoga with ease.
Word of Student - Certification Yoga Training in Rishikesh

The course in general was very good. I enjoy my time here and I will recommend the school for friends in the future.

Teachers

The teacher of Meditation is full of knowledge and very patient to explain everything. The teachers of the asanas were outstanding.The teacher of philosophy and teacher planning was very good.

Accommodation

Rooms are clean and airy facing mountains with attached washroom.

Food

People enjoy eating food here at Hatha Yoga School Rishikesh always and I will prefer to have more fruits in the morning. Also have the opportunity to eat some complete fruit such as banana or apple when is something different.

-- Monica Cediel, Colombia
200 Hr YTTC Syllabus:
Our 200 hour yoga teacher training Rishikesh syllabus meets the best standard as set by the Yoga Alliance USA. We provide enough scope and encourage group studies. In addition, consistent feedback is taken by us from the students regarding the teaching standard for improving it qualitatively.
Examination and Assessment:
Examinations are conducted adhering with the 200 hour yoga ttc syllabus. One has to appear for the examination to have the certificate. However, those who want to pursue these programs for personal experience can be exempted. But, certification will be given to them.
Students Behavior and Ethics:
Yoga course is a great place to learn yogic life style and social behavior to lead happy and peaceful life. Student will be assessed based on their day-to-day behavior.
Choosing : 200 Hour Yoga Schools in Rishikesh

200 hour yoga teacher training in Rishikesh covers :
Advanced Knowledge of Asana

Philosophy and Discipline of Anatomy

Art of Sequencing

Hands-on Adjustments

Techniques to Improve or Modify a Posture

Refining Your Voice

Yoga History and Philosophy
The Yoga Course Package Fee

include:

The course fee package includes:
Private room accommodation with attached washroom with hot water

Free Wi-Fi

Meals 3 times every day

Herbal and Indian Masala Tea 3 times daily

One Printed TTC Manual and one yoga book

Course Materials Like: Notebook. pen and detox kit

Sightseeing activity to a nearby attraction with local Guide

One School logo yoga t-shirt

One Spiritual Rudraksha mala

Yoga Alliance USA Registered Certification
How to Apply:
Fill up the registration form and send to our official email along with 210 USD (USD 200 advance fee +10 USD Paypal fee) to learn professional program from one of the best centers for 200 hour yoga teacher training in Rishikesh.
Eligibility:
Anyone who is physically and mentally fit can join the course, irrespective of religion and nation. It is preferred if the Participant is good in English.
Refund Rules:
Advance fee is non-refundable, in case you are unable to come on the proposed date, your deposit will be transferred for another yoga TTC course within one year.
Accreditations & Certification:
The School and courses run by it are accredited to Yoga Alliance USA and International Yoga Association. The certificates provided by it are certified by Yoga Alliance USA.