100 hour Yoga Teacher Training in Rishikesh, India


100 hour yoga teacher training in Rishikesh India at hatha yoga school in Rishikesh is a short-term yoga course registered with Yoga alliance USA. This yoga course is ideal for beginners who are looking forward to starting your yoga teacher training course journey yet are restricted due to time constraints. The sole purpose of this yoga course is to enhance your yogic knowledge and prepare them to teach yoga. The duration of this 100-hour yoga teacher training course in Rishikesh India is 14 days and helps in building a strong foundation for your yoga practice. In this yoga course, you will get a basic understanding of yoga asana, human physiology, anatomy, and philosophy that will give you a better understanding of mind-body and soul connection through yoga.
100 hour yoga course is a structured yoga course that will allow you to complete your 200 hour yoga teacher training course in two-semester. If you want to complete your 200 hrs yoga TTC yet are short on time you can complete our 100-hour yoga teacher training course then you can complete another 100 hrs yoga TTC it later in the span of one year after the completion of the first 100 hrs yoga course.
100 hour yoga teacher training in Rishikesh
100 hour residential hatha yoga teacher training course in Rishikesh is open for all level of yoga practitioners. If you are a complete beginner then this yoga course will help you to build a strong foundation of yoga. And, if you are an existing practitioner and want to start your career as a registered yoga teacher but having limited time then 100 hrs yoga ttc is the perfect yoga course to attain the yoga alliance certification. Hatha yoga school has created this yoga course with an intention to give a strong foundation to the students and help them to understand the depth of yoga through a 100 hour yoga course. Students will not only help you to commit to yogic lifestyle but also help you to achieve that mind body and soul connection for a balanced life.
Highlights of the 100 hour yoga teacher training course in Rishikesh
13 days of comprehensive yoga teacher training course that will broaden your understanding about yoga, its principles, philosophy, and techniques.
An in-depth teaching of traditional Hatha and ashtanga yoga.
You will learn under the guidance of our well-qualified and experienced yoga teachers in Rishikesh.
100-hour yoga alliance certification after the completion of yoga course.
Chance to learn about ancient Indian heritage and learn about its tradition.
Become the part of the global yoga community.
 100 Hour Yoga Teacher Training Course in Rishikesh (YTTC) :

Schedule

Course Fees
USD 399 / 20,000 INR
Course Dates
03rd Jan 2023 to 15th Jan 2023
03rd Feb 2023 to 15th Feb 2023
03rd Mar 2023 to 15th Mar 2023
03rd Apr 2023 to 15th Apr 2023
03rd May 2023 to 15th May 2023
03rd Jun 2023 to 15th Jun 2023
03rd Jul 2023 to 15th Jul 2023
03rd Aug 2023 to 15th Aug 2023
03rd Sep 2023 to 15th Sep 2023
03rd Oct 2023 to 15th Oct 2023
03rd Nov 2023 to 15th Nov 2023
03rd Dec 2023 to 15th Dec 2023
Aims & Objectives of 100 hour Teacher Training Course in Rishikesh

Providing best yoga teacher training in Rishikesh India that can help the learner in having a good physical and mental health.

Teaching the techniques and science of yoga that can make the best preparation for the student to be a successful yoga professional in future.

To help the student attain higher level of consciousness

Integration of moral values in the student.

To help the student attain higher level of consciousness

Possess emotional stability

Share the knowledge of yoga
Choosing: 100 Hour Yoga Teacher Training School in Rishikesh

Our 100 hour yoga teacher training in Rishikesh at Hatha Yoga School Rishikesh covers :
We teach about the techniques and practices in asana, mudra, bandhas, kriyas together with chanting, meditation, and more.

We offer lectures on philosophies and science of Hatha Yoga, Karma Yoga (Bhagvad Gita), Kundalini & chakras, Nadis, and other aspects during the class.

Being the best center of yoga exercises for beginners in Rishikesh, we aim at covering each aspect that has connection with human health. On this context, our trainers guide the students about healthy yoga life style to avoid the risk of various health issues such as diabetes, hypertension, digestive, prenatal yoga, and heart problems.
100 Hour Yoga TTC Course Structure (RYS 100)

Our 100 hour yoga classes for beginners in Rishikesh can be divided into following sessions:
50 Hour - Yoga Training and Practice
This session includes practice of Asanas, pranayama, kriya, chanting of mantra, meditation and all other traditional yoga techniques.
20 Hour – Yoga Methodology
The students are taught about major principles of yoga. They are given personal assistance to correct their techniques. At the same time, the students learn about various teaching styles, needful qualities of a teacher, as well as the qualities needed to be a part of professional yoga institution.
10 Hour- Yoga Anatomy and Physiology
This session includes study of human physical anatomy and physiology. It means the students learn about the entire human bodily systems, organs, etc. At the same time, they learn about various chakras, nadis, etc, and their effects on body, which includes study of yoga benefits, healthy movement patterns, etc.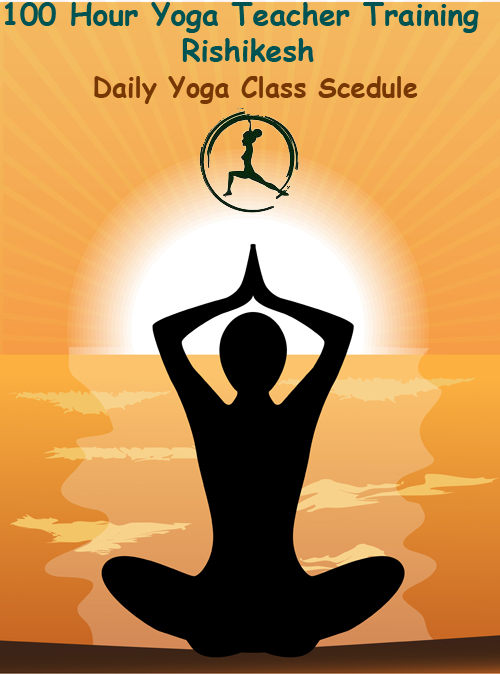 100 hour yoga teacher training Rishikesh India - Daily Yoga class schedule(It may change as per situation)

5.30 am – 6.00 am

Detoxification cleanse and meditation

6.00 am – 7.00 am

Breathing and Meditation

7.00am - 7.30 am

Tea

7:30 – 9:00

Ashtanga Vinyasa flow yoga

9:30 – 10:30

Breakfast

10:30 – 11:30

Anatomy

11:30 – 12:30

Self Alignment teaching practice

12:30 – 1:30

Lunch

1:30 – 2:30

free time

2:30 – 3:00

Tea

3:00 – 4:00

Philosophy

4:30 – 6:00

Hatha Yoga

7:30

self study/cultural program

10:00

Light off
100 hour Yoga Philosophy, Lifestyle and Ethics for Yoga Teacher

The detailed study of yoga philosophies, current lifestyle and all the prime ethics for yoga teachers.
Practicum – 5 hours
Being known as a reputed house for beginner yoga classes in Rishikesh, we conduct such special sessions to help students in practice, receiving all the feedback, observing their approach, and leaving feedback to make them feel more confident and enthusiastic.
Assignments – 15 hours
Yoga for beginners in Rishikesh always demands special effort from the practitioners. On this context, we guide them thoroughly about various teaching methods and helping them through relevant videos. In addition, this session also includes special hours for group discussions, answering personal questions, and also providing relevant materials that can better prepare them as a future trainer.
We follow a strict syllabus including relevant training modules that includes the following aspects as well, apart from teaching yoga poses for beginners.
Training: Aspirants are taught about the yoga basics, poses, techniques, and their underneath science in the most intuitive that can help them through their professional career.
Technique: Students are made understood about the relevance of various mantras, kriyas, pranayama and meditation, with clear elaboration of their meaning.
Inner Understanding: Students are taught about the whole human physiology as a part of yoga classes for beginners.
Teaching: As they are going to be the future teachers, the students are taught about different techniques, approaches, and methods of teaching that can turn them a better trainer.
How to Apply:
Fill up the registration form and send to our school email along with 115 USD (USD 100 advance fee +15 USD Paypal fee)
Eligibility:
Anyone who has a keen interest in yoga, to make it his/her professional career or simply to learn the yoga exercises for beginners for a healthy life can pursue this at Hatha Yoga School in Rishikesh. It would be best if the person is good in English.
Accreditations, Evaluation & Certification:
The School and study programs conducted here are accredited to Yoga Alliance USA and International Yoga Association. The certificates provided by the school are authorized by Yoga Alliance USA. In fact, 100 hour yoga teacher training in Rishikesh is considered the best yoga for beginners in India .
Refund Rules:
Only the Advance fee paid through PayPal is refundable. No money will be refunded if you cancel within 1-30 days after the commencement of the course. Well, you can get refund if you cancel the course prior 30 - 90 days.
Examination & Assessment:
Examinations are conducted on each module of syllabus for this 100-hour program of yoga for starters. It is here to mention that this examination is compulsory to have the certificate. There will be open book exam in which you will be given 25 questions to answers.