Yoga for Kids Teacher Training Rishikesh

Kids Yoga is of great importance for kids. Kids have a lot of energy and flexibility in their body. This is a time when kids get involved in multiple activities. Yoga can be one of the creative and interesting activities for kids and will also keep them busy. Hatha Yoga School Rishikesh follows a unique holistic approach that addresses the needs and capabilities of children.
The profound benefits of Yoga for Kids has helped people of all ages, from kids to adults. Yoga helps people make their bodies healthier, increase their confidence and boost your morale. If you want to join kids yoga classes, we are known as the best school in Rishikesh for teaching kids yoga. Our trainers are qualified, well experienced and knowledgeable to impart training to the candidates and students who want to learn yoga.
Yoga for Kids
Kids yoga is an activity for kids that will give their body the right flexibility, more strength and heightened level of muscle growth. Yoga exercises for kids helps them to improve their concentration alongside studies, along with boosting their confidence. We make sure that kids who want to learn children's yoga teacher training are given the right atmosphere and environment to help them grow. They can learn yoga in Rishikesh at our Hatha yoga school Rishikesh.
Yoga for Kids Teacher Training - Course Structure

Yoga course for kids includes some basic asanas (poses) such as:
sun-rise and sun-set tree pose
butter fly pose, fish pose
airplane pose
Gorilla pose
bow pose
partner bridge pose, etc
The course will also include some exercises as practice and the kids will have to remain silent during poses.
Kids Yoga Training in Rishikesh - Guidelines
Teach kids yoga from a trained, experienced, qualified and certified yoga instructor.
Send them to a yoga school that runs yoga classes for kids.
Meant for children with sound and healthy body only.
Only to be provided when children are free.
Attention on kids to ensure that they don't overdo or practice any wrong poses.
Make kids yoga poses in a group.
Use of videos and light music to provide a soothing effect on kids.
Children's Yoga Teacher Training - Daily Yoga class schedule(It may change as per situation)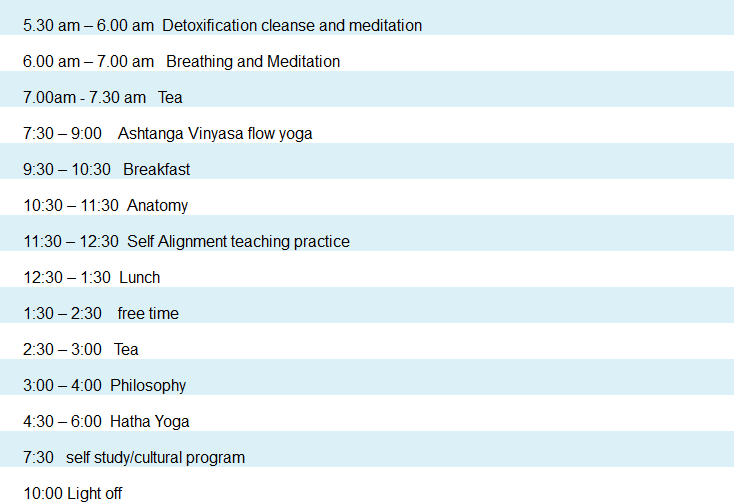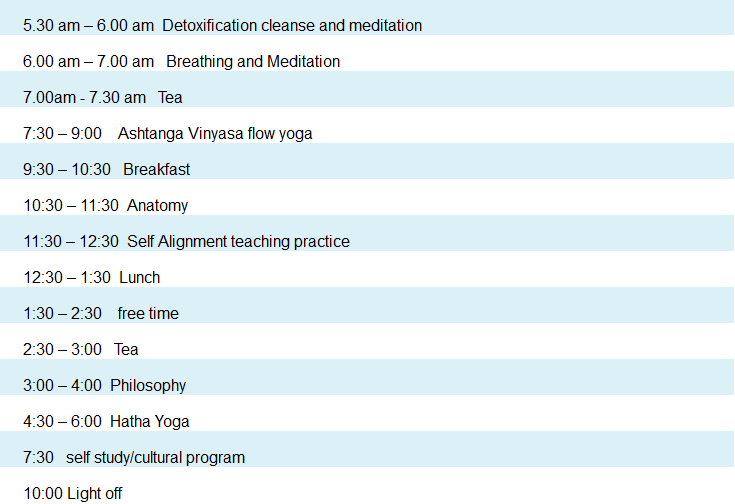 Yoga Philosophy, Lifestyle and Ethics for Kids Yoga Training in Rishikesh
Early to bed and early to rise.
Reach yoga class on time.
No consumption of junk/fast food. Only yogic food.
Say, yes to yogic lifestyle.
Daily practice of yoga poses at home also.
Daily practice of meditation with light music in the background.
Imparting yoga philosophy to students.
Course Fee Package includes
Early to bed and early to rise.
Daily yoga classes
Yoga mats, blocks, straps and ropes.
Light yogic food throughout the day, along with fruits.
Light musical CD to play while practicing yoga.
Yoga t-shirt and bag.
Study material including books.
Certificate accredited to and recognized by Yoga Alliance USA, on completion of yoga course.
My mom got me enrolled in 'yoga for kids' course. In the beginning I got bored by as I started learning various yoga poses, I started getting excited. With every passing day, the course became more and more interesting as I was able to learn new yoga poses and breathing techniques. I'm glad that I came here, and would urge my friends to do the same. 
--Jack Suderlan,U.S
Conclusion
The yoga for kids classes is being offered for the first time in Rishikesh by Hatha Yoga School. Kids are the future of our country and so we decided to teaching kids yoga and yoga poses for kids. This kids yoga classes will help children to know their body's potential. It will also make them physically, mentally and emotionally more stronger.
Rishikesh is best and safe destination for YogaTTC in India
Due to the geographic structure and the climate of this place it is considered as one of the best destinations in India. Sivananda Yoga and our expert teachers are making are very easy for the people and kids to stay over here. We have ashtanga yoga courses in India and these are customized by the director of the school. We have structured a course that helps us to perform accordingly and this also helps the students. There are different types of curriculum like 200 hour course and course for beginners. The yoga teaching certification India is also provided because we have effective affiliations. The course with duration of 200 hour is preferred by maximum learners and this specialty has made our school best in Rishikesh.