500 hour Yoga Teacher Training in Rishikesh
About Rishikesh City
Rishikesh, one of the holy cities of Uttarakhand, famous across the world as the 'abode of gods' is visited by thousands of people every year for its spiritual environment, yoga and adventure sports. Rishikesh is also known as the hub of yoga and meditation as many known sages have earned pittance through meditation and have practiced yoga since ancient times. They have been sharing their valuable knowledge of yoga and its different kinds, with people who wish to learn it and the process goes on till date.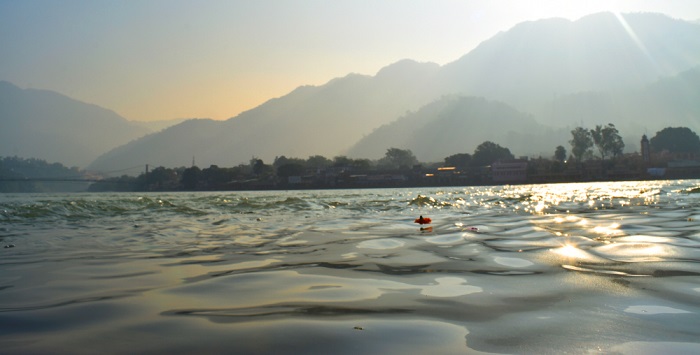 Rishikesh is also considered good for adventure sports such as river rafting, trekking, hiking, camping and bungee jumping. Located at the base of Himalayas, the city provides immense fun activities for tourists. Also, the holy river Ganga flows through it and people can attend Ganga aarti (religious ritual to appease river Ganga) every evening.
About 500 hour Yoga Courses in Rishikesh
Since Rishikesh has been the hub of learning yoga and meditation, there are many schools and ashrams that offer yoga courses. The 500 hour yoga teacher training is a program offered by many yoga schools and ashrams. The 500 hour yoga course in Rishikesh is the longest and most detailed 500 hour yoga certification course that is taught to students. It might be just one style specific or it might have two to three styles or it might include multi-styles of yoga, depending on the requirement of students.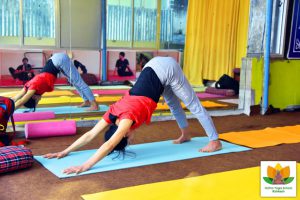 The 500 hour yoga teacher training in Rishikesh is offered by many yoga schools. AYM Yoga School/Hatha Yoga School is the leading yoga center in Rishikesh which offers 500 hour yoga teacher training in Rishikesh. The school offers many 500 hour yoga courses in Rishikesh under its program of yoga training in Rishikesh.
Its various courses include Hatha yoga classes in Rishikesh, Vinyasa yoga classes in Rishikesh in India, Ashtanga yoga classes, Rishikesh and multi-style yoga classes in Rishikesh, India.
There are two most important books, considered as guide to Hatha yoga namely- 'Hatha Yoga Pradapika' and 'Gheranda Samhita'; a must for those who wish to learn Hath yoga and its practice deeply. There are many 500 hour yoga teacher training courses that are taught in Rishikesh. Some of them are as follows:-
500 hour Hatha Yoga Course
The 500 hour yoga teacher training in Rishikesh (Hatha Yoga) will include principles, knowledge and practice of hatha yoga. It is a system of physical poses that go hand in hand with synchronized breathing technique. Hatha yoga practice includes shatkarma, pranayama, asana, awakening of chakras and kundalini, mudras, bandhas, kriyas and nadi shodhan.
500 hour Hatha & Ashtanga Yoga Training
In this hatha and ashtanga 500 hour yoga teacher training course, students will get complete knowledge of Hatha and Ashtanga yoga; and will be able to learn two styles at the same time. This 500 hour yoga certification course will transform the power of your soul, body and mind. It is a comprehensive in depth course and will take a lot of time and practice to master.
500 hour Hatha & Vinyasa Training Course
This 500 hour yoga certification course includes fundamentals, principles and practices of Hatha and Vinyasa styles of yoga. We have already talked about Hatha yoga. Vinyasa is that style of yoga in which the practitioner moves from one pose to another in a systematic and pre-defined way. Synchronized and controlled breathing needs to be done while doing Vinyasa yoga. At Rishikesh, you will get this 500 hour hatha & vinyasa yoga teacher training course.
500 hour Hatha & Iyengar Yoga Teacher Training
These are two different styles of yoga, both of which require a lot of physical efforts. This 500 hour yoga teacher training course is aimed at training students in both these styles as yoga teachers. You will need a lot of time and patience, but in the end you will come out as a trained and qualified Hatha and Iyengar yoga teacher. AYM's yoga classes in Rishikesh are aimed at teaching these styles of yoga courses in Rishikesh at its premises.
500 hour multi-style YTTC
The 500 hour multi-style YTTC (yoga teacher training course) is the most difficult, in-depth and detailed 500 yoga teacher training course on the offer. As this yoga course in Rishikesh includes many physical poses that are quiet demanding in multiple styles. It includes many styles of yoga such as Vinyasa, Ashtanga, Hatha, Iyengar, Sivananda, Kundalini, Power and Yin-yang yoga.  It also includes yoga classes in Rishikesh on deep meditation, yoga philosophy and yogic psychology.
Highlights of 500 hour yoga courses
In-depth training in single as well as multiple styles of yoga.
All courses are residential yoga courses, and of 500 hours, that can be done in two months.
All courses are offered at affordable prices in comparison to those offered by others.
Classes on anatomy, physiology, yogic psychology, teaching methodology, and yoga philosophy will also be held.
Basic knowledge of ayurveda and yoga therapy will also be taught.
Spacious yoga hall and yoga studio with free ample space in varandahs.
Training by experienced and Yoga Alliance USA certified yoga teachers.
Students will be asked to hold a class and teach like a teacher in the style/s of yoga learnt by them.
Sun salutation, meditation and breathing techniques will be taught in all yoga courses as they are an important part and help in doing the poses easily.
All yoga courses are certified by and affiliated to Yoga Alliance USA and International Yoga Federation.
Accommodation
Various schools provide single and shared accommodation to its students. You can share between ac and non-ac rooms. The rooms have geysers in bathrooms and clean pillows, covers, bed sheets and blanket are provided to all students. The rooms are cleaned twice a week or according to the request of student.
Learning yoga in Rishikesh will be a life changing experience for students as most of the schools are located near Ganga ghaats and there is complete peace and calm; which are considered as 'necessary' to learn and practice yoga. The place is full of spiritual practices and one can also see the famous 'Ganga aarti' that takes place every evening.
In case of emergency, students are also taken to hospital or to a particular doctor as per the need of student/s. It is ensured that in case of illness, students get proper treatment so that their studies don't get affected. 2 to 3 day rest is given to students to give them enough time to recover.
Laundry and press services are also provided to students so that they can wear clean and pressed clothes during their stay by various schools.
Facilities for students
Free Wi-fi on every floor.
Internet enabled computer with printer at reception for students.
Pure drinking water.
Well light and airy rooms.
Clean kitchen and dining area.
Library with books on yoga, fiction and non-fiction novels.
Heater for winters at small charges.
Laundry and press service.
CCTVs installed on every floor for security and surveillance.
Projector available for students for watching yoga and meditation based movies.
Advantages of 500 hour yoga courses in Rishikesh 
Transforms you into a trained and qualified yoga teacher certified with Yoga Alliance USA, registered with the same.
Improves flexibility, stamina, blood circulation, memory and concentration.
You will be able to promote yourself as Yoga Alliance certified yoga teacher. You will also be able to promote the style/s you teach. This will make you discover able by new students.
Keeps you updated though online classes and workshops (attend from home) about latest practices in the field of yoga, whenever you have time.
Talk with experts of the field who keep innovating new poses and modifications in the old ones.
Access to virtual community and yoga forums and committees at national and international level, in which you can participate as a speaker/lecturer.
Email communication and access to web articles, audio and video recordings of workshops, Newsletter, research based projects, and picture gallery of Yoga Alliance USA. You can also be part of research based projects.
Career Opportunities
Lots of career opportunities in the field of yoga and meditation after completing any of the 500 hour yoga courses, you can practice as a Yoga Alliance registered yoga teacher/yoga instructor in a yoga school.
You can also open up your own yoga school in any part of the world and teach various styles of yoga.
You can also practice as visiting yoga teacher and take classes in more than 1 school.
You can also work as yoga physiotherapist and help treat patients who suffer with muscular and groin pains and injuries.
If you are a resident of Rishikesh then you will be able to run your own yoga ttc in Rishikesh course, affiliated to Yoga Alliance USA.