About Hatha Yoga School Rishikesh


Hatha Yoga School Rishikesh sole objective is to make students to learn yoga successfully. Our renowned yoga teachers trainees from all corners of the globe are capable to teach yoga quite well.
Our most famous 200 Hour yoga teacher training in Rishikesh, the one month intensive teacher training course is internationally accredited with various famous countries who successfully complete the whole program and are also eligible to become registered yoga teachers at a 200 hour level. And they are qualify to teach students internationally as well.
Our Team
Our team endeavours to provide the best kind of training courses which are unique within our industry. We have a squad of specialist teachers for each subject whose aim is to make sure that trainees receive a robust education in across all subjects.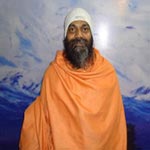 Swami Amarna Anand (Senior Meditation Teacher)
Amarna Anand has done meditation course from Osho International Meditation Resort in Pune, Maharashtra in India.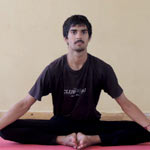 Yogi Mohit (Hatha and Ashtanga Teacher)
He was in standard VIII when he started practicing yoga at school. He learned basic yoga poses and started getting intrigued by it.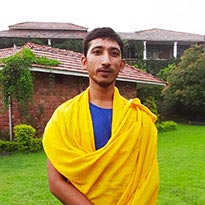 Yogacharya Sandeep Pandey
Yogi Sandeep is a Master degree holder of yoga from Sanskrit University of Haridwar and has learned mediation from hundreds yoga yoga masters in rishikesh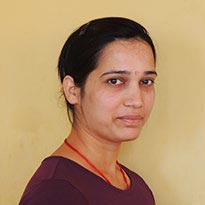 Yogini Manisha
Yogini Manisha has been serving AYM organization through her teaching and in the design and development since 2010.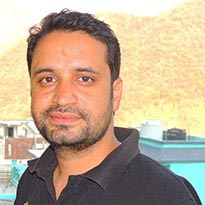 Yogacharya Mahesh Bhatt
Yogi Mahesh has done P.G. Diploma and M.Sc. in yogic sciences and was the topper of the batch, for which he was awarded with gold medal.
About our 200 Hour Training
Our 200 Hour Teacher Training provides a theoretical, comprehensive and practical hands-on training program. Trainees emerge from our centre as professional as well as confident teachers with a strong teaching skill all set ready to begin their profession. Alongside developing the art of teaching, trainees also attain a comprehensive understanding of the proper practice of yoga asanas, philosophy, meditation, adjusting, mantra chanting, physiology, chakras, anatomy, ayurveda, mudras, pranayama and and other traditional as well as contemporary Yoga techniques.
Our curriculum takes you through the important elements which need to intensify and enhance your own yoga practice. We are sure that you will teach students with full confidence. Our highly expert and certified yoga instructorwill escort you throughout from the basic stages to teaching with ease.
At Hatha Yoga School Rishikesh, we believe that the key priority outcome of a Teacher Training Course should be the capability to teach a professional class with keen skills when you complete your whole training program. We have proper yoga retreats and immersions specially for those who do not wish to become teachers.
We greatly value the emotional, spiritual and physical investment students make to surely attend a training course and this is why we place such an impactful emphasis on substantial teaching time during our training courses.
Style of Yoga
School Director and senior teacher here uses the customised Alashtanga primary series as a constant and solid foundation from which students can emerge their individual unique teaching style.Here during the course, you will have perfect opportunity to apply these accurate techniques to your own practice.
Our Curriculum
Our curriculum is originated from our 200 hour teacher training standards. It has also developed and well-shaped by our keen experienced training teachers. Our curriculum includes:
Asana techniques including training and practice in chanting, Pranayama,    Kriyas and meditation as well.
Yoga philosophy of 8 Limbs of Ashtanga, Raja Yoga and Sutras.
Anatomy and Physiology such as chakras, mudras and health benefits of     yoga
Course Pre-requisites
Much needed requirements to apply for the 200 hour teacher training are an highly in demand yoga practice, an open mind, dedication to learning, and inspiration to become a much worthy yoga teacher. And for this, applicants with a starters practice are welcome to choose any of our courses provided can display a high level of self-discipline as it is physically, mentally and more spiritually demanding and also extremely rewarding as well. If you are only going to join the course to attain a Certificate or to interrupt any of the momentum of the group because then you are not all ready to step outside your own comfort zone then we actually recommend further more personal development before apply to any of them.
Choosing the Right School
Our training are already occupied to capacity few months in advance to the beginning and we restrain trainee numbers and other related training held over the whole month for 100% quality assurance. We also appreciate that our trainees who have been properly placed on our wait list may also require to continue deep researching other programs that should a space and not become accessible on our course.
We usually receive instant feedback from our trainees that they are much inspired by the sea of schools to opt from. In the last few years yoga teacher training has now become big and vast business in India and also in around the world. And due to more business profits, unfortunately many schools have now cropped up hoping to ride the wave of this emerging industry. And that is the reason, most of the students have now invested important time, money & more energy to attend training that are substandard in such quality and are left without the proper skills to teach yoga properly.
When we started delivering yoga training in Rishikesh nearly a decade ago and we were one of the schools which are offering 200 & 500 hour programs at its best. At present there are numbers of schools in Rishikesh alone and many more are opening every year. Whilst we cannot give advice on any other schools here but can give you a checklist that may guide students to choose the best school for themselves.
Needs to be clearly stated certifications qualifications for each and every teacher subject-wise.
There should be expert teachers for each subject.
A strong and an established reputation, not the one that has recently emerged.
A proper code of conduct needs to be followed by students and teachers.
A registration with proper yoga alliance that clear and demanding assessment procedures as well.
Safe, clean and should non distracting students accommodation as it should support you in your yoga journey not to distract you from it anyhow.