Yoga Meditation classes - Hatha Yoga School Rishikesh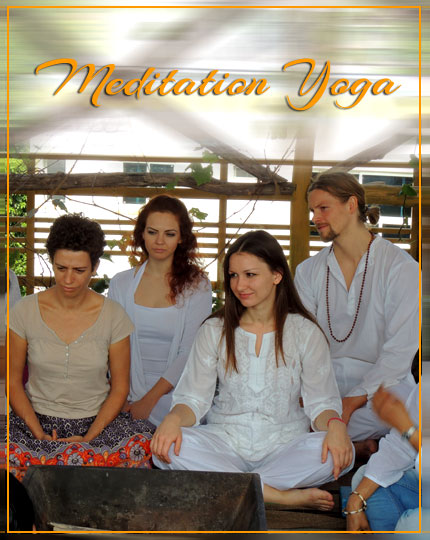 Hatha Yoga School Rishikesh offers a comprehensive as well as unique yoga meditation for beginners in the city of Rishikesh on the banks of the river Ganga which has been surrounded by the foothills of the beautiful Himalayas. This Meditation teacher training India will offer the best training in both the art and science of yoga and meditation.
Yoga and Meditation is a perfect combination of pranayama which creates a complete spiritual practice and opens a path to healing, calmness as well as freedom from fear and all kinds of sufferings. Meditation is considered as the seventh limb which further leads to Samadhi as well. It actually doesn't matter, whether you are professional learner or already a practitioner of yoga and meditation, this yoga meditation classes in Rishikesh will surely deepen your own practice as well. It will also make you teach a blend of both yoga and meditation to all kind of individuals as well as groups.
Hatha Yoga School Rishikesh, you will also be given detailed lessons as well as lectures from our best team of highly professional Indian teachers. And of course, after the completion of our program, you will also be provided with the yoga alliance certificate of both 200-hours and other sessions which will grant you the permission to teach yoga internationally in any country.
In our 200-hour yoga and meditation yoga teacher training course, we will be concentrating on both theory and practical, so that one will be understand all the major as well as minor things well.
Meditation Yoga Teacher Training in Rishikesh - Features


In our sessions, you will get to learn about follow aspects:
 Yoga Philosophy
Here you will get to know about Yoga philosophy which is itself a unique and a perfect comprehensive description of life and consciousness as well. This session usually begins by describing all the central problem of any person's life. It is said that all these emotions arise because of a distortion in anybody's consciousness in which Atma is usually separated from pure consciousness. And by the constant practice of the eight limbs of Asthanga Yoga, a person can attain both peace as well as equanimity which leads to the union of Atma with the consciousness of Paramatma.
Meditation

Meditation is counted as the seventh limb in Asthanga Yoga. And by in depth studying and practicing meditation, generally a person starts to develop a sustained witnessing attentiveness or awareness of all that enters the field of your perception. This awareness generally leads to Samadhi which is the ultimate goal of any Yogi.
Shatkarma
Shatkarma is also a famous practice or named as an art of cleansing or best way to detoxifying our body as well as mind quite naturally. You will be taught here few things like what are the various types of shatkarmas, what are their benefits as well as precautions, etc.
Naturality
Naturality is another important aspect of this session. It is as simple as living according to the nature. In Naturality, one will be easily taught on how to leave the most happiest as well as the prosperous life according to the nature.
Meditation Yoga Teacher Training in Rishikesh - Course Structure

The course includes daily practice of yoga and meditation
Primary series of meditation includes focusing on one object or thing or just on an imaginative object.
Chanting of 'Om' or of some mantra is done to focus while in meditation. Once you have reached that level, you can then go into deep meditation in which you focus on self and don't need anything to use.
The course also teaches about how to keep the mind calm and focused during meditation.
There are many kinds of meditation which are taught under this course:
Module 1 : Chakra Meditation

In Chakra meditation, the practitioner focuses on one chakra at a time and keeps chanting a specific mantra meant for that chakra. The mantras keep changing with change of chakra.
Module 2 : Kundalini Meditation

Kundalini meditation, which actually is very complex. The aim of this meditation is to awaken the kundalini energy that lies dormant at the base of the spine. This kind of meditation should not be practiced without the guidance of a proper well-versed yogi.
Module 3 : Sound Meditation

Speaking 'Om' while meditating is considered as sound meditation. Sound meditation may also include listening to some sound and focusing on it.
Module 4 :  Mantra Meditation

Mantras are a repetition of words and phrase.You will learn about many mantras during this meditation.
Meditation Yoga Teacher Training in Rishikesh - Daily Yoga class schedule(It may change as per situation)


Course Fee Package USD 1150
06:00 wake up

06:30 pranayama and meditation

08:00 tea

08:15 Yoga therapy/multi style

10:00 Breakfast

11:00 lecture

12:45 lunch

01:30 karma yoga

02:00 rest/self-study

03:30 lecture on meditation

04:30 lecture on yoga Philosophy

05:30 Asana practice for meditation

06:45 dinner

07:30 self-study/cultural program

10:00 Light off
Schedule-Meditation Yoga Teacher Training in Rishikesh 2017-18

Course Fee : 1150 USD
Course Dates
15th Apr to 10th May 2017
15th May to 10th Jun 2017
15th Jun to 10th Jul 2017
15th Jul to 10th Aug 2017
15th Aug to 10th Sept 2017
15th Sept to 10th Oct 2017
15th Oct to 10th Nov 2017
15th Nov to 10th Dec 2017
Yoga Philosophy, Lifestyle and Ethics for Meditation Yoga in Rishikesh

Be true to self and practice yoga and meditation daily.
Be punctual and sincere in attending classes daily.
Make notes while in class so that you don't miss out anything.
Ask questions in class and after it to clear your doubts.
Learn teaching methodology and teaching skills in order to become successful yoga and meditation masters/teachers.
Live a yogic lifestyle and eat yogic food even after completing the course.